Posts: 2
Joined: 08 May 2018, 13:42
Location: Sao Jose dos Campos
What is the
difference between CURRENT IN and CURRENT MOTOR?
Best Regards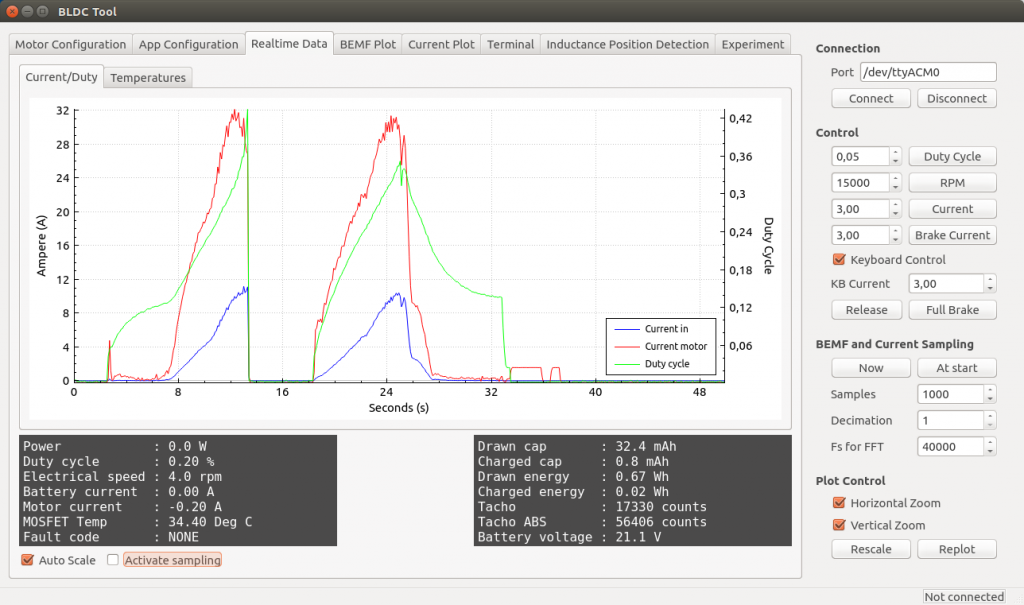 ---
Well,
current in
is the current pulled from the batteries, and
current motor
is the current supplied to the motor windings. They can differ since the VESC acts as a DC/DC converter: P = Uin*Iin = Umotor*Imotor. Since the motor voltage is lower than the battery voltage except when going full throttle, the motor current will be larger most of the time.
---
@andre_denzel here is a chart showing the predicted performance of an electric skateboard in bldc mode with 50a motor limit and 50a battery limit software user settings... take a look at the blue and black lines, top left chart (motor amps and battery amps) and the red line, bottom right chart (battery amps).
this chart shows different user settings (120a motor limit and 50a battery limit)
---
Posts: 2
Joined: 08 May 2018, 13:42
Location: Sao Jose dos Campos
You were very helpful.
Thanks very much!!
Regards!
---
---
Who is online
Users browsing this forum: eapedrag and 0 guests